SAVE THE DATE - 2023 FibreFest will take place on the

10 September 2023



Fibrefest 2022
Our favourite festival of yarn returns post covid and La Niña's floods in a new venue, the historic Winbourne. Located in the Edmund Rice Conference Centre and Retreat in Mulgoa at the foot of the beautiful Blue Mountains in covid safe surrounds, all the features loved and missed over the covid years will be back in October 2022.
Workshops will be held on Saturday 15 October, a communal knit night on Saturday evening and yarny goodness galore will be available for purchase from a fabulous selection of stallholders on Sunday 16 October.
Seems so much sweeter for the wait... have you been saving your pennies? Made space in your space....?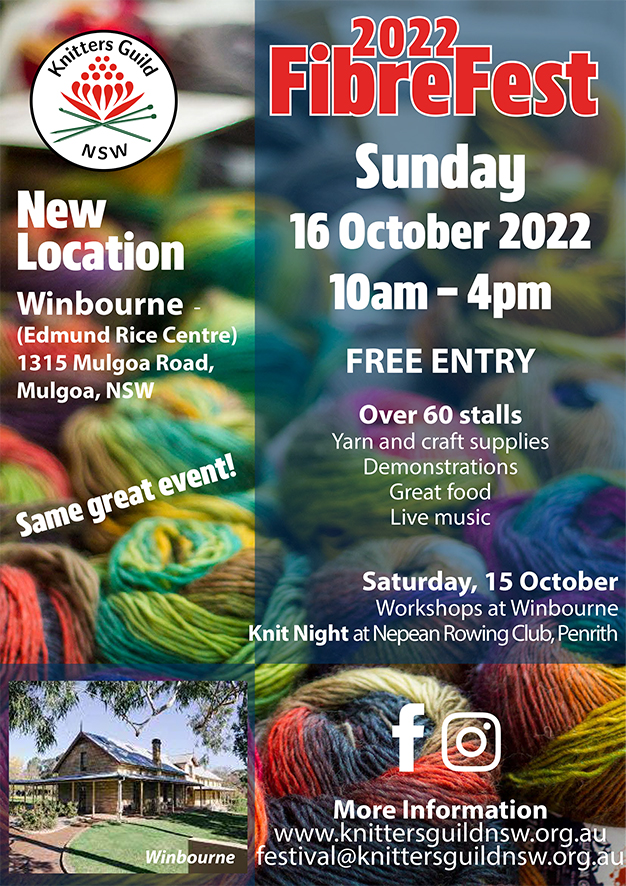 Join us for a Fibrefest Knit Night on Saturday 15 October at the Nepean Rowing Club, 32 Bruce Neale Drive, Penrith. from 6.00pm. We've reserved some tables for the evening but if you're inclined to sitting in your own group, you can make a booking on (02) 4731 1377. Looking forward to sharing a stitch or two with you.